Virtual Beer Tasting Events with Bon Beer Voyage FAQs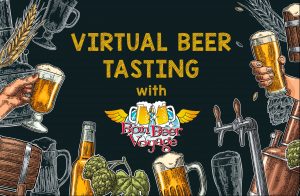 What is a Virtual Beer Tasting?
Bon Beer Virtual Tastings are the casual, fun and unique alternative to overplayed online wine tastings and "quarantini" happy hours. Our virtual beer tasting events range from relaxed, interactive, entertaining tastings of common beer styles, to more involved guided pairing events, i.e. beer and cheese or beer and chocolate pairing. 
Each tasting event can be tailored to make sure the level of discussion and information offered is of interest and entertaining to all participants. Our tastings are interactive, allowing attendees to ask questions and share their thoughts on the beers they chose for each particular style. We discuss  interesting stories about the beers, how to serve, taste & enjoy different styles of beer, what types of flavors one might experience and/or what might pair well with a particular beer and we even add in a bit of trivia and prizes.  We present our beer tastings in a relaxed, entertaining fashion. Beer tasting is interesting, sure, but it should be fun as well! 
We also offer beer and cheese pairing as well as beer and chocolate  pairing options for our virtual tastings.
Our typical Virtual Tastings last about 1-1 ½ hours, but timing for private groups can be adjusted to meet the specific parameters of your particular meeting or event.  Your hosts, Ruth Berman and Mike Arra, the co-founders of Bon Beer Voyage, have been teaching beer tasting and sharing the fun and entertaining aspects of craft beer for years. They now offer their online events to groups of all sizes as fundraisers, virtual happy hours, virtual trade show events, birthday parties or just a chance for companies of all sizes to virtually take their clients out for drinks!
How Does a Virtual Beer Tasting Work?
We run our events via Zoom platform. Registration can be offered directly with your guests, or through you, depending on your preference. Typically, once a participant registers, (or you register for them) an email will be sent to the email address of the registration with info on the beer they should purchase/acquire for the tasting.  A few days prior to the tasting, a link to the Zoom event will be sent out, along with optional tasting notes which may be printed out to use during class and/or kept for reference.  Everyone logs in at the pre-set time and the tasting fun begins!
A 6-Pack of Reasons to Partner with Us for Your Online  Beer Tasting Events
1. Unique Customized Options for Your Virtual Meetings, Trade Shows and Events: Our Cybeer Tastings offer a casual, fun and unique alternative to overplayed wine tastings. We can adjust the content and tasting options of each Cybeer event to best suit your group. 2. Memberships: Our industry affiliations allow us to tap into current industry trends. We are members of The Florida Brewers Guild, Brewer's Association, World Food Travel Association, Pink Boots Society and North American Guild of Beer Writers. 3. Experienced Beer Educators: For the last decade, our company has taught beer tasting at commercial locations such a World of Beer and Total Wine, as well as for private events. We added our online Cybeer tasting events back in February of this year and the adjustment to virtual has allowed us to offer a great program. 4. A Trusted Source of Expertise: Chosen as Beer Experts for USA Today's 10 Best Lists since 2014; Beer Tourism Panel presenter at the 2016 Beer Blogger's Conference; Belgian Beer Tourism Seminar Presenter at 8th Annual North American Belgian Beer Festival 2018; American Ambassador for Global Beer Toast for International Women's Day; Guest expert on beer travel for various radio programs nationwide. Beer Tasting Class Instructor for World of Beer and Brass Tap as well as for private consult. 5. Awards and Certifications: Two-time winner of The World Food Travel Association Food Trekking Awards; British Airways Opportunity Grant Winner; Listed in Top 100 Beer Blogs; Constant Contact All Star Award for monthly 'brewsletter'. Certified Beer Server in the Cicerone Program. 6. The Choice of Beer Aficionados & Industry Insiders: Selected by the founders of Beer Advocate, one of the top beer rating and information websites in the world, as well as by internationally renowned brewmasters, to craft and host their European Beercations.
How Do I Arrange a Cybeer Tasting for My Group?
Feel free to call or email us with questions and or date requests for your custom event. You can reach us at 1-888-846-2337 or bonbeer@bonbeer.com.
Looking for a Private Beercation? Look Here!
Looking for our twice a month Public Cybeer Tasting Class? Look Here!